Title: Cameron's Control
Author: Vanessa Fewings
Genre: Romantic Erotica
Release Date:
May 31,
2015
Series:
Enthrall Sessions
Synopsis
Passion has a price. Fortune has a fate.
In the realms of business and pleasure, Cameron Cole is a billionaire without equal. In the boardroom and the bedroom, Cameron quite simply dominates.
One woman has pierced his infamous armor and unexpectedly seized his heart. Her reward? Everything a submissive could desire: A master's total protection, unconditional love, and a ceaseless romance that continues to transform her by the day. Cameron demands complete submission, and he will get it.
He has everything a man could want. Everything a woman desires. But every master is put to the test.
Cameron's arrives in the form of a past love. The woman who once suffered immeasurably when he refused to marry her, now seeks revenge. If she can't lay claim to Cameron, no one can.
This woman is dangerous. She has secrets. Secrets about his current submissive. About those close to him. Secrets that could destroy everything he's worked so hard to achieve.
The choice will have to be made: business or love? The rule of an empire? Or the heart of a woman?
Cameron's Control in the first novella in the acclaimed erotic romance series The Enthrall Sessions by Vanessa Fewings.
With this new story, Fewings continues to expand the seductive world that has captivated readers around the globe, a collection that includes the three novels Enthrall, Enthrall Her, and Enthrall Him.
Cameron Cole has returned… and he's waiting for you.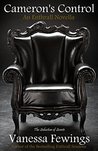 Cameron's Control: (Enthrall Novella #1)
by
Vanessa Fewings
My rating:
3 of 5 stars
This book picks up where we are left after the end of the Enthrall Series. Mia and Cameron have acknowledged their feelings for one another and are trying to make things work. There are some challenges based on their unusual history, but for the most part they are finding that they both need each other quite a bit. In this novella we go through the story from Cameron's perspective, and it is interesting after going through the Enthrall series from Mia's standpoint, we now get to see what Cameron's real feelings and challenges are.
A woman from Cameron's past enters the picture and is not pleasant for anyone to deal with. It was difficult to see Cameron and Mia forced to go through more challenges than they already were. I did find that while the chemistry between Mia and Cameron was still strong, their dynamic definitely changed a little. Cameron was still attempting control and domination over Mia, but it seemed like their edge was softened a bit. There was still some D/s play going on, but I missed some of the rougher stuff from the earlier books in the series. Fans of the Enthrall series will enjoy getting to spend more time with these characters and seeing the direction their lives are taking. There is a bit of a cliff hanger at the end of this, and I look forward to reading the next in the series.
*An ARC was provided in exchange for an honest review
Vanessa Fewings is the award-winning author of The Stone Masters Vampire Series. The fourth installment in the series, Bohemian, was released in October. Vanessa is currently writing book two in her erotic novel Enthrall trilogy.
Piper Day's Ultimate Guide to Avoiding George Clooney is her latest novel. Co-written with Author Christina Cannarella, their fresh and laugh out loud romantic comedy has already garnered a buzz of excitement from readers around the world.
Prior to publishing, Vanessa worked as a registered nurse and midwife. She holds a Masters Degree in Psychology. She has traveled extensively throughout the world and has lived in Germany, Hong Kong, and Cyprus. Born and raised in England, Vanessa now proudly calls herself an American and resides in California with her husband.
Vanessa Fewings is repped by management firm IPG.