Tanner Layne and Raquel Merrick fell in love young, hard and fast and both of them knew a beautiful life they thought would be forever.

Until Rocky left Layne, no explanation, no going back.

Layne escapes The 'Burg only to come back years later because his ex-wife has hooked herself to the town jerk and Layne needs to make sure his sons get raised right. Layne manages to avoid Rocky but when Layne gets three bullets drilled into him while investigating a dirty cop, he can't do that because Rocky stops avoiding Layne. They make a deal to work together to expose the dirty cop but they have no idea the strength of their enduring attraction or the sheer evil at work in The 'Burg.

As Tanner Layne and Raquel Merrick play their game and dance around the pull that draws them together, Layne has to discover the dark secrets buried so deep in Rocky's heart she doesn't even know they're there at the same time untangle a sinister web of crime so abhorrent it has to be stopped... at all costs.

And to do it, Layne has to enlist everyone, including his ex-CIA mentor, Rocky's detective brother, the town's unpredictable informant and Layne's two teenage sons all the while stopping Rocky from doing something crazy and keeping their game secret so Layne won't get himself dead.
My Review: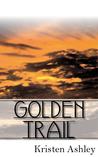 Golden Trail
by
Kristen Ashley
Narrated by:
Brian Pallino
My rating:
4.5 of 5 stars
Tanner Layne and Raquel Merrick were once young, in love, and happy. All of a Sudden Rocky leaves Layne with no explanation, leaving him devastated. He leaves The Burg, but returns years later to help raise the sons that live with his ex-wife, who has made some bad decisions about who she spends her time with. Layne manages to avoid Rocky, until he finds himself shot after getting too close to the truth while investigating a dirty cop. Rocky comes to visit him in the hospital, and nothing afterwards. Circumstances, feelings, and connected friends and family cause Rocky and Layne to face the feelings for one another (that have not dimmed over time), as well as the past and the ordeals both have had to face.
Yet again- Ashley writes a book that hooks me fast, and keeps me entirely engaged throughout. We not only get to know a bunch of new characters- Layne and his family, Rocky and hers, but revisit old friends from the previous two books in this series, and learn how everyone's lives intersect. The chemistry between Rocky and Layne is scorching hot and it is easy to decide that these are characters who should be together if they can just straighten out whatever mysterious force is keeping them apart. In addition to all the interpersonal drama going on, there are some very serious cases that the police, and Layne (a former cop and current PI) are working on with some urgency. Generally, it is the characters that make a Kristen Ashley story what it is, but this one also had me with the various and intertwining suspense elements. Basically, I loved all of it, and I can't wait to read more in this series. The epilogue was simply wonderful and connected me even deeper with many characters that I have come to really care about. 4.5 stars.
With the audiobook version: the narrator did a great job of not only bringing Layne's voice to life, but also bringing depth to the story and characters without distracting me or bringing me out of the story.
*A copy of the audiobook was provided in exchange for an honest review