The Barter System Series by Shayne McClendon is a series that I love!
I've been in love since the first book (
The Barter System
) came out. Now, after finally getting to read the story I needed about a character (Gabriella) I've been attached to since book two (
Hudson
) I thought I'd put all my reviews of this series together in one post.
My main message here is: Read this series.
Listed below is some information about each book along with my reviews. Enjoy :)
Series Chronology:
The Barter System - Book 1
Hudson - Book 2
Pushing the Envelope - Book 3
Backstage - Book 4
Liberation - Book 5
Radiance - Book 6
Synopsis
Some people will go to great lengths to get their research.
Riya O'Connell is working on her dissertation in Male Sexuality and decides to create a website called "The Barter System" where she requests applications from men around the country willing to participate in her research. She eventually narrows down her thousands of submissions to eight men. They will give her viable data, cover her expenses while in their company, and ensure she reaches her next destination safely. In return, Riya will give them…whatever they want.
As her project progresses, Riya realizes she's chosen the eight men in the country who would love her well and that she could easily love in return. Subject after subject is left behind with a small piece of her heart. Driven by her need to understand male sexuality, she refuses to quit no matter how difficult it becomes to keep going. Her presence creates a ripple effect over the lives of her subjects and paths cross that might not have been possible without her.
Finding where her heart ultimately belongs may be an education she didn't plan on.
Synopsis
Refuse to compromise.
Hudson Winters is in control of every aspect of his world. From his earliest memories, he's been driven to succeed. Starting from nothing, he built an empire based on opportunity and intimidation.
Personally, professionally, and sexually – he ensures the reins are
always
in his hands.
He never counted on a woman like Gabriella Hernandez.
From the moment she steps into his building, she proceeds to shake up his entire existence. Her very presence causes him to question everything about himself, his relationships, and his future.
This story features characters readers fell in love with in "The Barter System" and gives you a chance to sit down and catch up.
NOTE: This story contains explicit sexual scenes and language and is intended for mature audiences only. Do not read this novel if intense sexual situations offend you
_________________________________________________________________________________
Synopsis
She has things under control...for the most part.
Tawny Ratliff is a loose cannon. She's brash, unpredictable, and always ready to fight.
She's also the best friend a person could hope for, keeps an eye on the people she loves, and takes her desire to do good to the next level.
Brilliant and devious, Tawny takes you behind the scenes of "The Barter System," to a time when she and her best friend Riya were just kids trying to figure things out like everyone else.
Her perspective is unusual, her language is uncouth, but she is never boring.
Find out why this character in "The Barter System" and "Hudson" won the hearts of so many. Miss Tawny has no filter...
My Review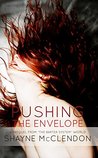 Pushing the Envelope: A Prequel from "The Barter System" World
by
Shayne McClendon
My rating:
4 of 5 stars
Despite being a "prequel", this is NOT a book that should be read first. I think minimally,
The Barter System
should be read before reading this. We know Tawny as the long time outspoken best friend of Riya, but after reading this I realized there was a whole lot about her that I didn't know. Reading this was also really helpful for me as I looked at her in a little different light moving forward. This is the kind of story that will fill in some gaps and set the stage for deeper understanding going forward. I adore this series, and will be continue to read everything that this author writes.
_________________________________________________________________________________
Synopsis
Behind the scenes is your chance to shine...
The day the Johannson sisters arrive to launch their play Off-Broadway in New York City, they know their lives will never be the same.
Mikayla is confident, talented, and achingly lonely.
Madeline is brilliant, organized, and jaded about men.
Can these two women from Oklahoma find success, peace, and lasting love in the Big Apple?
Visit with characters you fell in love with in the other stories set in "The Barter System" universe and meet a few you're never going to forget.
My Review
Backstage
by
Shayne McClendon
My rating:
4 of 5 stars
In Backstage- we get three stories instead of one, PLUS a little time with Gabriella, Natalia, Hudson, etc. The Johannson sisters are pretty easy to like right off the bat. As are the Zelder brothers. They work hard for what they want, and support each other through it all in a way that makes them all completely endearing. By the end of the book, we have gotten to know some wonderful people and watch them connect with one another and find happiness. The sexual chemistry between each couple is very hot, and it is difficult to do anything but cheer these people on throughout.
I adore this series, and definitely recommend that the books be read in order. THese are all characters that you are going to want to get to know and spend some time with.
_________________________________________________________________________________
Synopsis
Freedom is intoxicating...
Marciella Canfield is alone in the world with nothing but the company her father built. She goes through her days surrounded by security and very few reasons to smile. A love life is low on her list of priorities due to repeated disappointments and a schedule that is out of control.
Fahad and Nuri Ghonim approach Marci one night at
Trois
and memories she'd buried from a trip when she was a young girl explode to the surface.
They offer her freedom she has never experienced and passion she cannot conceive without the ridiculous behaviors she's come to expect from men.
My Review
Liberation
by
Shayne McClendon
My rating:
4 of 5 stars
Maricella (Marci) is a strong business woman with a lot of success, and a lot of loneliness. She has been running her late father's company after detaching completely from her villain of a mother. She ends up connecting with Fahad and Nuri Ghonim while attending an event at Trois, and comes to realize that she has a very interesting shared past with them. They understand the world of long hours of work and the need for high levels of security in a way that most people don't, and it helps them find the possibility of happiness when none of them thought it possible.
I love this author, and I love this series, but if I don't get Gabriella's story soon I'm going to freak the hell out.
Highly recommend this series, but read the books in order!
_________________________________________________________________________________
Synopsis
A lightness of spirit often draws the darkness.

Gabriella Hernandez admits her irrational attraction to Harper Delkin and his bodyguard Elijah Eklund. Despite a little bit of fear about why they want her, she can't deny her excitement. She has no doubt they'll leave her body humming but her heart shredded.

Harper Delkin didn't like her. The woman was too emotional and dangerous to his self-control. There was something about Gabriella that twisted him up and made him harder than he'd ever been in his lifetime.

Elijah Eklund knew the moment Harper mentioned Brie that things in their life were about to change drastically. He never suspected she would ultimately turn their world inside out or the lengths he would go to keep her.

Visit with characters you fell in love with in the other stories set in "The Barter System" universe and meet a few you are never going to forget.
My Review
Radiance
by
Shayne McClendon
My rating:
4 of 5 stars
I have been waiting for what feels like forever for Gabriella's (Brie) story, and FINALLY it is here!!! I became attached to Brie in
Hudson
's story and for the past 4 books in this series have been waiting (not so patiently) for this woman to get something for herself.
This book is even more of an emotional roller coaster than I expected and I found myself wanting to scream at everyone to just cut this woman a break! Brie goes through trials that would crush lesser beings with a grace that is impossible to comprehend. So, of course she can't just find the person/people she is meant to be with and then live happily ever after. Elijah is pretty easy to love right from the start. He's a lot of things, and those things are all great. Harper Delkin is a much tougher sell, and I had to struggle not to have my primary feelings towards him be irritation, anger, and frustration. I had to try hard and see things through Gabriella's eyes, but even then sometimes wondered how she could love him so early on when his behavior was so terrible. There is no denying the chemistry between these characters, and the added relationship layers going on in this situation made everything even more intense.
There were times when I felt that I just couldn't handle it if one more awful thing happened to Brie. Watching someone repeatedly make the lives of others better while suffering so much themselves became nearly unbearable. I'm glad I pushed through the pain and found my way through the story. I love spending time with all of these characters and hope for more of all of them in the future.
I highly recommend this series, but believe that it really needs to be read in order. Get it. Read it. Love it.
Now give me some Hollow. Soon, please. I need more.