"Maybe it's not what you're running from, but what you're running toward."
Alicia travels to an exotic land, with hopes to reinvent herself. She moves to Auckland, New Zealand, to heal and escape her unhappy past in America.
Hunter works in a bar to distract himself from the memory of a tragic past. Playing in a local band and resorting to one night stands are his only means for an escape from his reality.
Brought together by circumstance, an unexpected romance blossoms between these two tortured souls.
Can being by each other's side bring them the happiness they are desperate to discover? Or will being together break their fragile trust and lead to more heartache?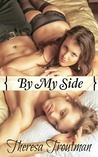 By My Side
by
Theresa Troutman
My rating:
3 of 5 stars
Alicia moves to New Zealand looking to start over. She was married for a year before catching her husband cheating on her. Alicia has a job she loves, but was able to keep the job with the move. She had no problem leaving the rest behind. She meets her sexy next door neighbor Hunter, and while she is attracted to him, she is not in a place where she wants to be in a relationship. Hunter has lived through a tragedy that has kept him from being in any serious relationships for years. Both quickly realize that their attraction to one another may not allow them to stay apart.
I liked this story and the characters. Alicia is easy to connect to. Hunter is hot and there really isn't anything identifiable not to like about him. The two of them together have great chemistry and are a great match. I think my main issue with this book was that there was no major conflict. Sure the characters have been through a couple tough situations, but from the time Alicia moves to New Zealand it is really all smooth sailing from then on out. Not that I wished for these characters to struggle, it just made me feel like there wasn't much going on story-wise. I enjoyed seeing Alicia find a group of friends as well as the supportive parents she never had in Hunter's parents. I guess with a nice easy story line like this one, I really need something more. More character development, etc. Overall, I would recommend this to someone looking for a nice easy read about characters finding happiness.
*An ARC was provided in exchange for an honest review