Once I started reading the books in Mia Sheridan's Sign of Love series, I couldn't stop. These are stand-alone books, but since they are all really good I would
highly recommend
reading all of them. Below are my reviews of the first four books in the series:
Leo
Leo's Chance
Stinger
Archer's Voice
Leo (Sign of Love #1) by Mia Sheridan


Synopsis
Evie and Leo met in foster care as children and formed a bond of friendship. As they grew, their bond turned to love, and they vowed to make a life together when they turned 18 and were no longer a part of the system.
When Leo unexpectedly gets adopted as a teen and moves to another city, he promises Evie that he will contact her as soon as he gets there and come back for her in a few short years. She never hears from him again.
Now eight years later, in spite of the odds, Evie has made a life for herself. She has a job. She has friends. She's content. Then a man shows up out of the blue, claiming that her long lost love, Leo, sent him to check up on her. The attraction between them is undeniable. But, should she trust this sexy stranger? Or is he keeping a secret about what his
connection
to Leo is really all about and why Leo disappeared all those years ago
?
My Review
Leo
by
Mia Sheridan
My rating:
4 of 5 stars
Evie and Leo are both products of traumatic childhoods and the foster care system. They form a friendship and as they age, it turns into a deeper connection. Leo is adopted at age 15, and before he moves away, swears to Evie that he will find her again and when she is 18 they can be together. Eight years later, Evie has never heard from Leo again. A man enters her life claiming to be checking up on her at the request of Leo. Evie finds herself attracted to this man and willing to open herself up for the first time since she last saw Leo.
Evie is a really easy character to like and connect to. She is kind, and sweet, but is not naive. She has lived through some serious trauma and has faced challenges for most of her life, but it has not made her bitter or jaded. Rather, she is appreciative of everything and brings happiness to the people in all areas of her life.
There are some mysterious elements to this book, and I won't spoil them. I was really excited to see Jake enter Evie's life and finally give her the affection and attention she deserves. There were many moments of frustration as Evie continued to face challenges that were not of her own making, and deal with all of them with grace and dignity despite the emotional pain she was experiencing. The sexy elements in this book are very sexy indeed and I am really looking forward to reading more in by this author, and more in this series.
Leo's Chance (Sign of Love #2) by Mia Sheridan


Synopsis
A companion (alternate POV) novel to the
USA Today
bestselling book,
Leo
.
Does everyone deserve a second chance? Even someone who lies and deceives to get it?
Do we all have a second chance coming? Even if we play a part in our own destruction?
How hard would you fight to have a second chance at love? A second chance at life? Another chance to tell your own story?
Every love story has two sides. Evie told hers. This time it's Leo's chance.
THIS IS A POV NOVEL OF

LEO

(

LEO SHOULD BE READ FIRST).
My Review
Leo's Chance
by
Mia Sheridan
My rating:
4 of 5 stars
No one should read this unless they have first read
Leo
, which people should read. This book is the alternate POV, and for those readers who enjoyed Leo, this can shed some light on some of the situations so that we understand them in a different way.
I'm not always a fan of same story, different POV books, but in this case I think there was enough gained by understanding the other person's story to make it worth while.
Stinger (Sign of Love #3) by Mia Sheridan
Synopsis
Grace Hamilton was the girl with a plan. She knew exactly where her life was going and prided herself on always achieving her goals. It was who she was, and how she lived her life. She never stepped outside the lines, and never considered what she might desire and whom she was actually trying so hard to please. Until him . . .
Carson Stinger was a man who didn't play by any rules except his own. Working in the adult entertainment industry, he didn't care what others thought, and took each day as it came, no direction, no plan. He knew what women wanted from him and believed it was all he had to offer. Until her . . .
When circumstances forced them to spend several hours together, they walked away changed. But for two people who never should have meshed, overcoming the reality of their vastly different lives wasn't possible. At least not yet . . .
My Review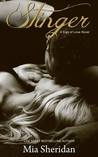 Stinger
by
Mia Sheridan
My rating:
4 of 5 stars
Grace is living a life that is very much planned out. She has found academic success, and is working hard in law school to be successful in her adult life as well. Grace knows what she wants, and has a time frame to achieve her goals. Carson doesn't have any rules for his life, and has found success in the adult film industry. He has no idea that he should want, or could possibly have any more in his life than he already does. When Grace and Carson are forced into a situation where they spend time together, they realize that despite their obvious differences they have an attraction that they can't deny. They also know that after allowing themselves the weekend to enjoy each other, they will both move on with their separate lives. Suddenly it starts to seem much more difficult for both of them to imagine their lives without the other.
It is tough to imagine how Grace and Carson could ever have a relationship in the "real world" once they leave LasVegas, but boy did I want them to. Despite Grace coming off as sort of pretentious, and Carson coming off a little crass, both characters are very quickly likable. They are also likable almost immediately as a couple. I was quickly emotionally invested in both and it hurt to see them both hurting so much as they struggled to try and hold on to the brief happiness each found in the other. Their chemistry is smoking hot, and the sexy elements of this book are very sexy indeed!
This story takes turns I didn't expect, but all of that only engaged me more and got me more invested in the characters and their futures. So far this series keeps getting better and better, and I look forward to reading more by this author.
Archer's Voice (Sign of Love #4) by Mia Sheridan
Synopsis
When Bree Prescott arrives in the sleepy, lakeside town of Pelion, Maine, she hopes against hope that this is the place where she will finally find the peace she so desperately seeks. On her first day there, her life collides with Archer Hale, an isolated man who holds a secret agony of his own. A man no one else sees.
Archer's Voice
is the story of a woman chained to the memory of one horrifying night and the man whose love is the key to her freedom. It is the story of a silent man who lives with an excruciating wound and the woman who helps him find his voice. It is the story of suffering, fate, and the transformative power of love.
My Review
Archer's Voice
by
Mia Sheridan
My rating:
4 of 5 stars
Bree flees her hometown and sets herself up in a small beach town in search of some peace. She has been through some traumatic events, and really wants to get her life back in order. One of the first people she encounters is Archer, a recluse with a lot of secrets. As she does what no one has tried to do for decades, and communicates with Archer, she finds that this is a relationship that will change both of their lives.
Bree is an extremely likable character. Her ability to really see and understand the people around her makes it easy for people to care about her. Archer, too, is really easy to care about. It is tough to see just how much devastation can occur in one person's life, but all the more rewarding to see Archer start to come back to life when Bree enters his life. Get ready to feel all of your emotions while reading this book. I experienced the whole range, and that is one of the ways I gauge the success of the author. It is impossible not to connect with these characters and feel for them and the complexity of their situation. Also, when things get heated up- whoooo!!! Seriously. Crazy hot. This is a very unique story, and I was hooked quickly and stayed engaged throughout. For me, this series has gotten better and better with each installment, and I'm excited to continue reading more by this author.