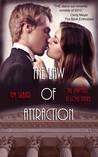 The Law of Attraction
by
N.M. Silber
My rating:
4 of 5 stars
Gabrielle is a public defender, and Braden is a prosecutor. They often work in the same court room and quickly realize that they are both very attracted to one another. One issue is that Braden is a notorious player who is always ready to hook up, but doesn't date. Gabrielle wants Braden, but isn't interested in a one night stand with anyone. A little booze and some witty banter has them negotiating their way into the start of a relationship. Once that is taken care of, some outside issues arise.
I enjoyed this book quite a lot. The main characters are very witty as are their friends. Experiencing the sexual tension building up between Gabrielle and Braden was pretty spectacular, but not quite as spectacular as when they finally vented it! These two have some serious chemistry and while the hot stuff is really hot, the banter and intellectual connection these two find and experience was absolutely wonderful to witness. After Gabrielle and Braden connect, we see that there are other people who want relationships with either Gabrielle or Braden and are ready to cause problems for the new couple. Gabrielle is receiving mysterious threatening letters, and those who want Braden are being very clear about their desires.
From the beginning, I was completely hooked into this story. I will definitely be continuing on with this series and can't wait to read more!
*An ARC was provided in exchange for an honest review