Title: Broken Course (Wrecked and Ruined, #3)
Release Date: November 10, 2014
Genre: Contemporary Romance
Blurb
Seven years ago, my life changed forever. One accident and the person I saw in the mirror no longer resembled the woman I used to be. I was lost and confused inside my own body. I felt alone and disconnected from the world, carrying the incredible weight of guilt and loss that wasn't even mine to harbor.
Then fate led me to Leo James. He taught me that crazy could be perfectly normal and it shouldn't hurt to breathe. Don't get me wrong. Leo isn't perfect. He has his own cross to bear, and the truth is, that might be why I fell for him in the first place. But despite everything he does for me, learning to forgive myself is infinitely harder than overlooking the flaws of another.
Now, the secrets and lies of our past have begun to dictate our future—threatening to ruin us before we get the chance to try. Perhaps we were cursed from the start. Or maybe, just maybe, the remnants of our fractured lives will fit together to form one whole, where love isn't questioned and being happy is…well, easy.
Can a second broken soul be enough to fill the voids of my own? Or will such scarred pasts prove too much for our love alone to overcome?
**Each book in this series can be read as a stand alone.**
My Review: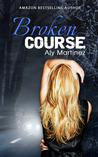 Broken Course
by
Aly Martinez
My rating:
4 of 5 stars
Sarah has experienced an incredibly challenging past seven years. An accident not only took her best friend from her, but also changed her life in ways that really hurt a lot of people around her in serious ways. She has finally found some answers and worked hard to put a new life together for herself. A chance meeting brings her into contact with Leo James, who awakens desires in her that she hasn't felt since before the accident. Both Sarah and Leo have some serious trauma and dysfunction in their pasts, but they seem to be able to connect to each other in a serious way and bring some peace to each other's lives.
This is the 3rd book in the Wrecked and Ruined series. I would definitely recommend that the first two books in the series be read before this one as it will increase the impact of everything. I would also recommend reading
Among the Echoes
, since it will give you a much stronger picture of what Leo's life was like before (plus it's just a good book). Knowing both Sarah and Leo, we know there is no way that things won't get messy from time to time. Both have some very serious demons haunting them and despite their working hard to get past them, they have a way of popping back up every now and again. Plus both know that in order to move forward in a serious way, they will have to reveal themselves to one another.
I expected it to be tougher for me to connect to Sarah than it was based on my experience with her in the previous books. I actually found it pretty easy to care about her and really enjoy seeing her find some happiness in her life again. I already cared about Leo after reading Among the Echoes, and this book just solidified that. Despite his own severe challenges, seeing how he is supports those people he cares about is very endearing. Plus he's completely hot, and his sexual chemistry with Sarah is very intense. I loved this installment in the series, and it is always wonderful to get to catch up a bit with characters we love from the previous books. I would definitely recommend this whole series.
*An ARC was provided in exchange for an honest review
Wrecked and Ruined
Changing Course (Wrecked and Ruined, #1)
Stolen Course (Wrecked and Ruined, #2)
Broken Course (Wrecked and Ruined, #3)
About the Author
Born and raised in Savannah, Georgia, Aly Martinez is a stay-at-home mom to four crazy kids under the age of five, including a set of twins. Currently living in Chicago, she passes what little free time she has reading anything and everything she can get her hands on, preferably with a glass of wine at her side.
After some encouragement from her friends, Aly decided to add "Author" to her ever-growing list of job titles. So grab a glass of Chardonnay, or a bottle if you're hanging out with Aly, and join her aboard the crazy train she calls life.
Enter to win a $50.00 Amazon Gift Card or a Signed Paperback set!