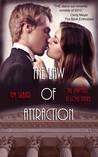 The Law of Attraction
by
N.M. Silber
My rating:
4 of 5 stars
Gabrielle is a public defender, and Braden is a prosecutor. They often work in the same court room and quickly realize that they are both very attracted to one another. One issue is that Braden is a notorious player who is always ready to hook up, but doesn't date. Gabrielle wants Braden, but isn't interested in a one night stand with anyone. A little booze and some witty banter has them negotiating their way into the start of a relationship. Once that is taken care of, some outside issues arise.
I enjoyed this book quite a lot. The main characters are very witty as are their friends. Experiencing the sexual tension building up between Gabrielle and Braden was pretty spectacular, but not quite as spectacular as when they finally vented it! These two have some serious chemistry and while the hot stuff is really hot, the banter and intellectual connection these two find and experience was absolutely wonderful to witness. After Gabrielle and Braden connect, we see that there are other people who want relationships with either Gabrielle or Braden and are ready to cause problems for the new couple. Gabrielle is receiving mysterious threatening letters, and those who want Braden are being very clear about their desires.
From the beginning, I was completely hooked into this story. I will definitely be continuing on with this series and can't wait to read more!
*An ARC was provided in exchange for an honest review
The Home Court Advantage
by
N.M. Silber
My rating:
4 of 5 stars
This book picks up where
The Law of Attraction
leaves off. Gabrielle and Braden are completely in love and their lives seem to be falling into place in all the important ways. Gabrielle is still receiving mysterious messages, and the couple is obviously being stalked. Gabrielle comes up with more schemes to try and find the identity of the stalker, but now Braden is on board and by her side. They continue to deal with a variety of interesting criminal cases and criminals in court, and are passionate as ever when they can find time alone together.
I really love this couple. I honestly can't think of a thing I don't like about either one. They are funny, witty, passionate, and ready to work through any problems that arise. Their friends are smart and interesting people as well, and I loved seeing how they are coupling up as well. This series is funny, smart, sexy, and sweet with a touch of mystery. I have enjoyed it a lot and am looking forward to reading more by this author.
*An ARC was received in exchange for an honest review
Legal Briefs
by
N.M. Silber
My rating:
4 of 5 stars
Lilly and Adam have been enemies since they were 4 years old. Now at 27, Lilly is a lawyer working as a legal librarian (and novelist) and Adam is an attorney with the District Attorney's Office. They share many of the same friends, but their tension and irritation with one another has remained in tact. Except for the past few months there have been a coupe incidents where being in close quarters has left them experiencing more than a little sexual tension. Both are unsure what will happen if they give in to their desires.
Just when I thought I loved the first two books in this series, this one comes along and I love it even more! Lilly and Adam are just plain awesome. Both are witty, sarcastic, sexy, and guard their emotions tightly but are dying to experience something real. And their chemistry is very intense. This is one of those "duh, they are mean to each other because they like each other" stories, but it isn't cliche. The characters and story line feels fresh, and it was great to get to spend a little more time with Gabrielle, Braden, Mark, and everyone we got to know in the first two books in the series. It was fantastic to watch Lilly and Adam fall in love while not having it change their personalities or who they are. It was like their relationship just made each of them better. I've enjoyed this whole series, and this book in particular a whole lot and would highly recommend it. I will be also looking to read more by this author in the future.
*An ARC was provided in exchange for an honest review.
Legally Wed
by
N.M. Silber
My rating:
4 of 5 stars
Adam and Lily are gearing up to get married. They battled a childhood of lust-fuelled hatred to finally get together and now they have a whole host of new stressful issues to deal with. As wedding planning anxieties arise along with old insecurities, Adam and Lily struggle to have faith in their love for one another and the happiness they have found.
I adore this series, and I especially love Adam and Lily. They are a fantastic couple, and it was amazing to get to spend some more time with both of them. Their sexual chemistry is still very intense, and that combined with their intellectual compatibility make them of my favorite couples. It is also great to check in with other characters we have come to know and love throughout this series, and hopefully soon we will get Mark's story. I highly recommend this series and can't wait for more!
*An ARC was provided in exchange for an honest review
Hosted By: