Synopsis
Once upon a time two lawyers fell in love across a courtroom ...
Gabrielle Ginsberg was a public defender with plenty of nerve and Braden Pierce was an assistant district attorney with a whole lot of swagger. Gabrielle wanted Braden and Braden wanted Gabrielle.
And Cameron wanted Gabrielle.
And Marla wanted Braden.
And Cole wanted Gabrielle.
And Mrs. Mason wanted Braden.
And an anonymous letter writer wanted to keep Gabrielle and Braden apart.
Together Gabrielle and Braden discovered many important things, like which doors at the courthouse actually locked, and that desks could be useful for more than writing. They also found out that the path of love was not always smooth, and it was sometimes tread upon by some really wacky people, like a confused fanny grabber, an eighty-two year old pothead and a gentleman who threw a wine and cheese party in his pants. Could true love overcome a lack of privacy, interference by jealous rivals and the insanity of the criminal court system?
My Review: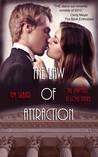 The Law of Attraction
by
N.M. Silber
Narrated by Tavia Gilbert
My rating:
4 of 5 stars
Gabrielle is a public defender, and Braden is a prosecutor. They often work in the same court room and quickly realize that they are both very attracted to one another. One issue is that Braden is a notorious player who is always ready to hook up, but doesn't date. Gabrielle wants Braden, but isn't interested in a one night stand with anyone. A little booze and some witty banter has them negotiating their way into the start of a relationship. Once that is taken care of, some outside issues arise.
I enjoyed this book quite a lot. The main characters are very witty as are their friends. Experiencing the sexual tension building up between Gabrielle and Braden was pretty spectacular, but not quite as spectacular as when they finally vented it! These two have some serious chemistry and while the hot stuff is really hot, the banter and intellectual connection these two find and experience was absolutely wonderful to witness. After Gabrielle and Braden connect, we see that there are other people who want relationships with either Gabrielle or Braden and are ready to cause problems for the new couple. Gabrielle is receiving mysterious threatening letters, and those who want Braden are being very clear about their desires. There are definitely moments where Gabrielle makes some pretty crazy decisions about how to handle certain situations, but ultimately even the ridiculous bits add to the charm and fun of the story. I really enjoyed the main characters as well as their friends.
I did actually read this book before I listed to the audio version. I was excited to experience this story again, and the narrator did a pretty fantastic job of bringing Gabrielle and the other characters to life. At times, the narrator had me convinced that she was actually living the story (and having a lot of fun doing so). I highly recommend this book, and look forward to listening to more in this series.
*A copy of this audiobook was provided in exchange for an honest review